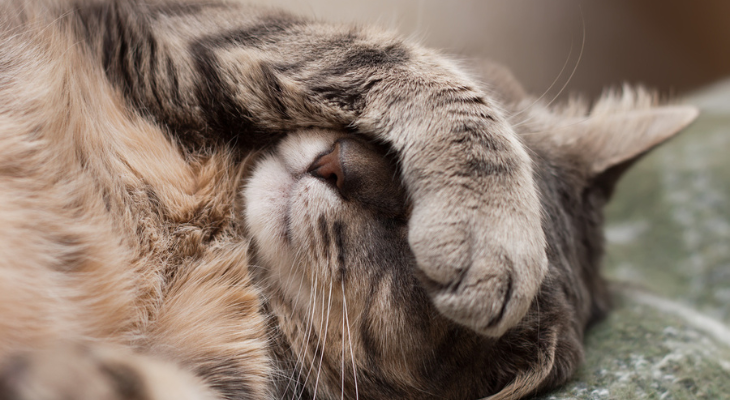 How to Tell When Your Cat Is Sick
Can you recognize the signs that may mean your furry friend isn't feeling well? Cats have an impressive ability to hide their illnesses, even they're very sick. Unfortunately, that may mean delays in getting much-needed veterinary care if you're unfamiliar with common illness signs.
Why Cats Don't Always Seem Sick
In the wild, sick, weak animals are much more likely to be hunted and killed by stronger predators. Although your cat enjoys a comfortable existence in your home, it still retains the instincts that kept its ancestors alive. Your pet could be extremely sick, yet not show obvious signs of illness.
13 Signs That Could Mean Your Pet Is Sick
You might notice any of these signs or behaviors if you're cat is ill:
Hiding. It's much easier to escape from predators if they can't find you. If your pet is spending more time than unusual hanging out under the bed, in a closet, or in another out-of-the-way place, it may be sick or in pain.
Thirst. Have you been refilling your cat's water bowl more frequently lately? Several diseases and conditions, including diabetes and kidney or thyroid disease, increase your pet's thirst.
Change in Litter Box Habits. Your cat might avoid the litter box if it has kidney stones, a urinary tract infection, feline interstitial cystitis, kidney stones, or a life-threatening urinary tract blockage. Some urinary tract conditions could also make it difficult to reach the litter box in time. Older cats may find it difficult to use a litter box with a high rim due to joint pain or arthritis or might forget where the litter box is due to dementia.
Loss of Appetite. Just like people, cats may lose interest in food when they're sick. In some cases, cats may feel fine, but may avoid eating due to tooth pain.
Vomiting or Diarrhea. Frequent vomiting or diarrhea warrants a trip to the veterinarian's office. Both can be caused by eating a toxic substance, a viral or bacterial infection, intestinal parasites, inflammatory bowel disease, a cancerous or non-cancerous growth, kidney disease, diabetes, thyroid disease, or many other diseases or conditions. If your cat doesn't receive prompt treatment, it could become dangerously dehydrated.
Grooming Issues. Sick cats don't feel well enough to keep up with grooming. Their fur may soon look greasy or dull and may come off in clumps. Of course, too much grooming is also a problem and could mean that your cat has fleas or a skin allergy.
Weight Loss. Thanks to their fur, it's not always easy to tell if a cat has lost weight. If you can easily feel or see each individual rib, your pet may be too thin. Unintended weight loss in cats could be due to kidney disease, diabetes, cancer, parasites, thyroid disease, dental issues, depression, or anxiety.
Lack of Energy. Has your normally energetic cat stopped zooming around the house and pouncing on invisible mice? Lack of energy is another sign that your favorite feline might be unwell.
Breathing Problems. Breathing problems often require emergency treatment. Take your pet to the veterinarian immediately if it is breathing rapidly, struggling to breathe or panting. Cats that are having trouble breathing may extend their necks in an attempt to get enough air into their lungs.
Runny Nose or Eyes. Watery eyes could mean that your cat has a blocked tear duct or an upper respiratory infection. If an upper respiratory problem is the issue, your pet may also have a runny nose and might sneeze and cough.
Inability to Move Back Legs. Has your cat suddenly started dragging it's back legs? The most common cause of the problem is a type of blood clot called a saddle thrombus, according to Tufts University Cummings School of Veterinary Medicine. A stroke, tumor, viral or fungal infection, tick bite, spinal inflammation, slipped disc, or a broken pelvis are among the other reasons for back leg paralysis or weakness.
Change in Posture. You may be able to tell that your cat is sick just by looking at it. When a cat is sick, it may hunch over, walk stiffly, change the way it holds it tail or tilt its head.
Additional Signs. Other signs of illness can include pale gums, bad breath, more frequent meowing, unusual increase in appetite, lumps, dilated or small pupils, drooling, yellowish eyes or seizures.
Concerned about your cat's health? Give us a call to schedule an appointment for your favorite feline.
Sources:
Tufts: Heart Smart: Information of Pets with Heart Disease
Readers Digest: 13 Silent Signs Your "Healthy" Cat Is Actually Sick, 2/8/2022
American Humane: Recognizing & Caring for a Sick Pet, 6/21/2022